If we talk about Malaga, we talk about sports. Not just football, basketball or golf. Cycling and triathlon continue to increase its popularity all over the Costa del Sol in leaps and bounds. Give your training a boost in a dreamy location! Find below why Malaga is your perfect destination.
One of the warmest winter spots in Europe
Malaga's perfect climate is no news but is a must thing to mention! The weather is one of the most important factors to have in mind if you are an athlete looking for a place where to train. La Costa del Sol enjoys plenty of sunshine throughout the year, with an average of more than 300 sunny days a year. This means less than 50 days a year of rain.
We advice you to find a Blue Flag awarded beach. The Blue Flag system is signales the best beaches in Spain. These blog flags are awarded to beaches that meet the standards of this foundtation across 4 categories:
The quality of the water
Safety and emergencies services available
The level of local environmental information on display
The standard of the local environmental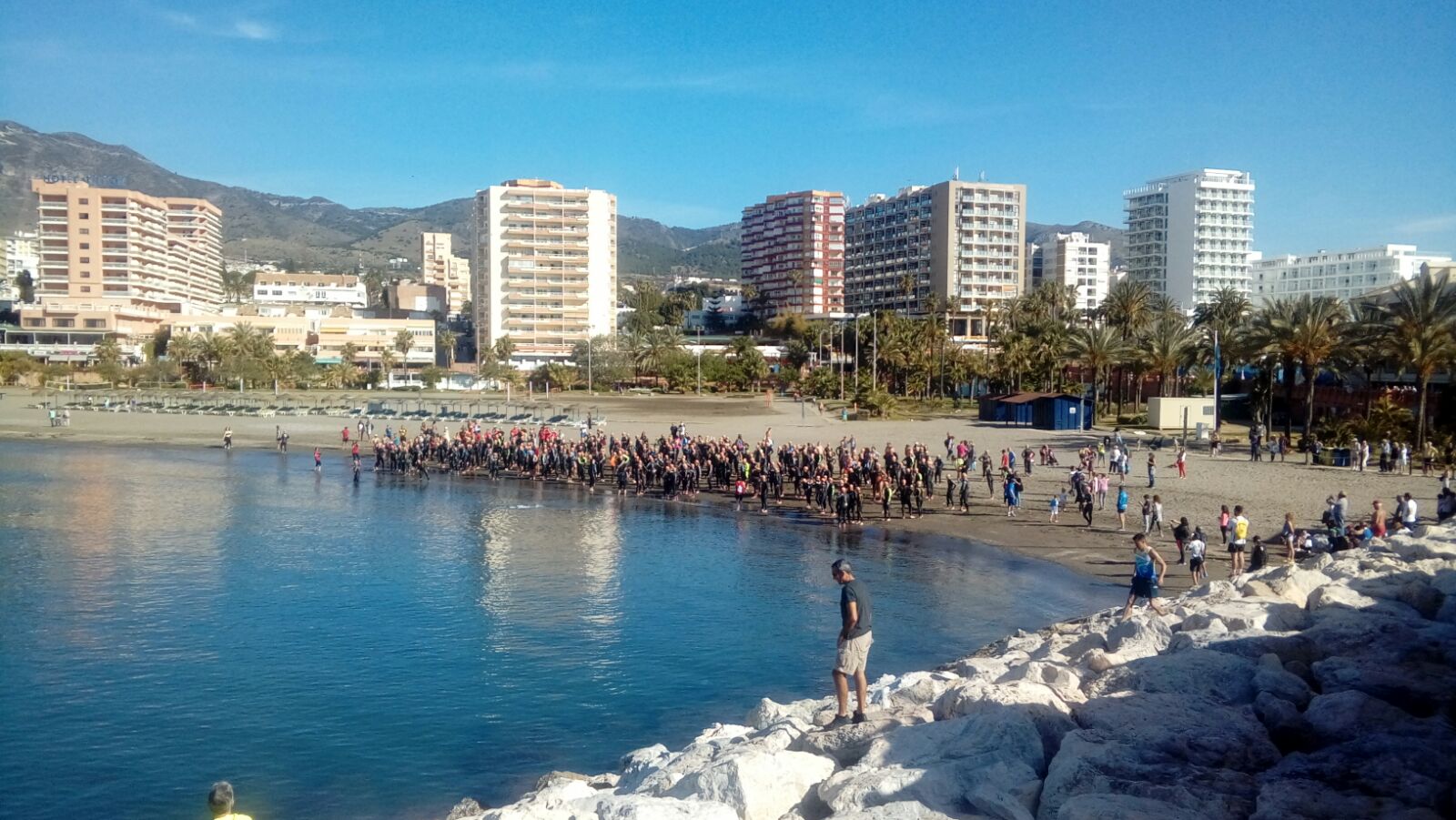 Its coastal location with winds blowing from the Mediterranean Sea make the heat manageable during the summer. In brief, this climate makes open water swim possible during most time of the year! Make sure to pay attention to stay inside the yellow buoys – these indicate where safe water lies and where you should navigate safely within a channel.
Another top recommendation: Visit El Chorro lakes. If you want to enjoy a secluded swim and relax on the lakeshore, with some breathtaking views of the surroundings, this is your place! Also be aware if there are kayaks, boats, or fishermen in the area.
Nearby our Fast Monkey store in Torremolinos, the 'Ciudad de Torremolinos' Sports Complex can be found. It's not uncommon to meet Olympic swimmers from all over Europe to the area for training camps before the season begins. The complex also counts with a big athletics track and gym, among more stuff. Cycling and Triathlon training in Malaga it's an smart choice.
Professional Cycling in Malaga
La Vuelta (the Tour of Spain) fanatics, or La Vuelta a Andalucia races already know about the spectacular routes that await here. Get ready to taste the same roads as the elite cyclists! Malaga and its province have been part of the many stages of both events.
In the 2018 edition, it was the starting point for a few of the first stages of La Vuelta continuing their long partnership.
Puerto del León was part of 2015 Vuelta a España 3rd stage from Málaga city and won by Peter Sagan. It's really one of the most epic cycling climbs in Andalucía. There are alternative routes from Olías and Benamargosa, challenging and worth a try if you want to test yourself.
For more advices on tracks, take a look at our recommended road routes.
Also, big sports events like the IRONMAN 70.3 triathlon are held in Marbella (Malaga). The 2020 edition will start on Sunday, 26th April.
Unlimited Cycling and Triathlon training options
If you're looking for variety on your Cycling and Triathlon training holiday, Malaga is once again perfect for this. Also, unlike in other countries, Spain enforces a strict, safe distance for cars to overtake cyclists, which is 1.5m.
You will not need to ride for kilometers and kilometers to test the different options. Flat and cool-down routes, challenging climbs and vertiginous descents are relatively close from each other. The proximity of the mountains to the sea will definitely astonish you: nature in its purest form!
Surely you can imagine what we are talking about. So check it better and find out about one of the best routes in the area of Benalmádena and Mijas: The Antennas. 
Not everything will be about the hills, though! Between ups and downs, your muscles will ask for a break. Enjoy a long and flat ride along the most beautiful beaches of the Costa del Sol with this track from Benalmádena to Torre del Mar.
A Training for every runner
Trails, hills and promenades: You decide how you want your training to be! But we must recommend you to go for a run as the sun comes up from Benalmádena, past the marina, to Torremolinos. You can go as little or as far as you want and you won't be on the road. Not crowded (apart from other runners and dog-walkers) just lovely fresh sea air and a marvelous sunrise. Or the 25km of Málaga seafront promenades are among the most popular places to run on the Costa del Sol. These are really wide, multi-use paths pass beaches and parks.
Now put your trail running shoes on! For the more adventurous, the trails around the mountains of Benalmádena and Mijas.  Enjoy the views of the entire Mijas village, Fuengirola, and all the way down to Marbella – and even Gibraltar and the Rif Mountains of Morocco.
These trails are near the coast, so you won't need to go far to feel in the middle of nature, away from the city hasle. They are very well signposted and well defined, so you won't be in doubt which way to go.
Would you rather exercise your endurance and speed on running tracks? No worries!
Estadio Ciudad de Málaga, Polideportivo Arroyo de la Miel, Ciudad de Torremolinos or Hipodromo Costa del Sol in Mijas – all these sports complexes include recommendable athletics tracks and quality gyms for outdoor training.
Holidays and training at the same time
If the reasons we have mentioned above are not enough, we will give you more.
The Costa del Sol is a leisure place for the whole family, and for all ages. Sightseeing, Amusement Parks, Zoos and Aquariums, and many water sports and adventure activities. In addition to world-renowned shopping centers of easy access.
What can we say about the gastronomy. The delicious Mediterranean food, one of the most exquisite enjoyments in the area… and healthy!
If you still have doubts, don't hesitate to contact us. At Fast Monkey we will be more than happy to help you design your Cycling and Triathlon training in Malaga. From providing you the perfect bike to recommendations about everything you might need during your stay.